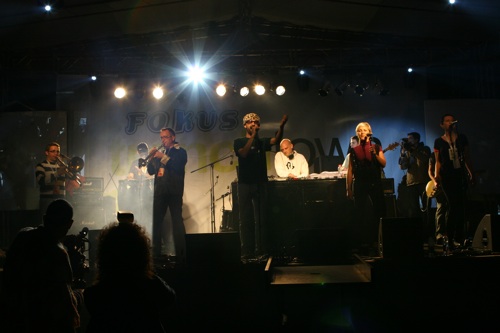 Dogo Argentino is a project set up in 1999 by a few freaks and rhythm enthusiasts inspired by charismatic dj panorama and his work. In time, the groove has gained intensity as well as strength and Dogo disco noise-makers have become a place where a colorful group of eleven creates dance music based on highly rated bpms.

nemanja with his drumsticks that make every beat perfect; balatz on the percussions and zwomba on the bass – the unavoidable section of crazy rhythm and fast beat; danchee – a magician of piercing trumpet sound and cheerful melodies; Frco – a hazard of trombone; bradavrbn – provocative guitar intrusions; adrey, zmaya and layla – charmingly playful vocals singing catchy lines; mc feele – the gray eminence of light notes, the ruler of dance floors and a good soul,; and finally moreno – flying fingers keyboard. These are the members of Dogo Argentino, the unique mixture of pleasure and dance joy in the all-pervasive atmosphere of dj panorama's ingenuity.

Additional dogs on the album are: Jaksa Jordes – sax, Davor Dedic – keyboard, Goran Schmidt – sax.

Rest of the dogz are: dj Umbo, Cove, ElectroCoa, Jela the Discobee, Sorin, dj Pips, de Iva de Maria de This de That During all these years, the discodogs have had many gigs, including the MTV Carnival Party Rijeka Croatia, EXIT festival Novi Sad Serbia , TRENCHTOWN festival Subotica Serbia, MOTOVUN film festival Croatia, FILM festival Subotica Serbia, REDBULL event Zagreb Croatia, gigs in clubs all around Croatia (Zagreb, Zadar, Rijeka, Šibenik, Dubrovnik...), Sarajevo Bosnia, Pecs Hungary...and the Cultural Centre in Branjin Vrh Croatia.

In the meantime, the dogz took part in two plays, one of which was done for the Croatian National Theatre (Osijek, Zagreb, Split, Rijeka). Still; all that matters is the good will and joy, while the only performance criterion is the enjoyment of the audience.

In the summer of 2006, the dogz released their first and second hot remixes (12" singles) with the help of dj badass and under the auspices of odds and ends records, Washington D.C., with remixes by Greenskeepers, Zapata team, Molemen, Pablo J...

The phenomenon of catchy frenzy called Dogo Argentino still thinks of dancing and smiling.......