Timewarp inc - Realistic

Catalogue No: TMDG190
Release Date: December 6, 2019
Media: Digital

Nu Funk / Soul / Swing / Dub



We are proud to present you the new single taken from Timewarp inc's fourth studio album "Theory of Revolution". Realistic is a unique song that features the amazing vocalist and lyric writer Georges Perin together with his harmonica giving a blues accent over the song. The song features funky grooves and catchy melodies combined with a taste of swing and a strong disco shuffle beat, unforgettable turntable scratches by Sparky T. and swinging-groovy baseline, plus acoustic and electric guitars from Alex the X-King.



This song is included on Timewarp inc's new album "Theory of Revolution". A special limited edition (250 copies) double 12" gatefold vinyl format!

The 12" Double Vinyl is now on stock & available for purchase. BUY HERE!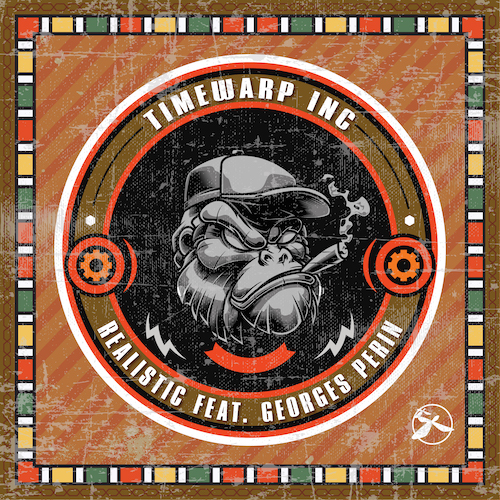 We are proud to present you the new single taken from Timewarp inc's fourth studio album "Theory of Revolution". Realistic is a unique song that features the amazing vocalist and lyric writer Georges Perin. Here you can hear him performing his unique funky and blues style vocals. On this track George contributes with his harmonica giving a blues accent over the song.

Funky grooves and catchy melodies combined with a taste of swing and a strong disco shuffle beat. The horn section pumps the groove out together with a seventies like rhodes e-piano groove to get you in the party mood, while the dub style is not missing at all! Well yes indeed, that's Timewarp inc's unique style and way of producing and playing music. But out of nowhere there is a strange ethnic bridge, that has been "timewarpdubed" with an unexpected and unknown woodwind instrument.

Alex the X-King contributed on this song and played those unforgettable swinging-groovy baseline, followed with his acoustic guitar next to give a swing colour overall, and of curse with his electric guitar and unique performing style providing those great hooks, riffs and melodies.

Sparky T contributed on the track too with his unforgettable turntable scratching skills over the song, giving that edgy live and complex turntablelism groove sound in the song.

The vinyl is available at our Bandcamp store and at our Discogs
page.

Audiophile Analog Mastering: Angelos Timewarp Stoumpos at Timewarp Mastering

Cover Design: Timewarp

This song is included on Timewarp inc's new album "Theory of Revolution". A special limited edition (250 copies) double 12" gatefold vinyl format!

The 12" Double Vinyl is now on stock & available for purchase. BUY HERE!


Timewarp inc - Realistic feat. Georges Perin will available on December 6, 2019 for sale as a digital download at timewarpstore and all digital music retailers worldwide.



TRACK LIST:
1. Timewarp inc - Realistic feat. Georges Perin