Timewarp inc - Liberty is our Destiny (RSN Remix)

Catalogue No: TMDG192
Release Date: February 14, 2020
Media: Digital

Dub / Funk / Soul



This first remix single is brought by Athens based producer RSN. As you can discover on this particular remix, RSN managed to bring the original song's dub-reggae-funk style along with the Reggae-Raga & Dancehall vocals from Gobey into his music style & territory, blended with soul, trip hop, downtempo and his floating music character over the original song. An instrumental version of the remix is included on the release.

The original double vinyl "Theory of Revolution" by Timewarp inc is out now in a special limited edition (250 copies) double 12" gatefold vinyl format!

The 12" Double Vinyl is now on stock & available for purchase. BUY HERE!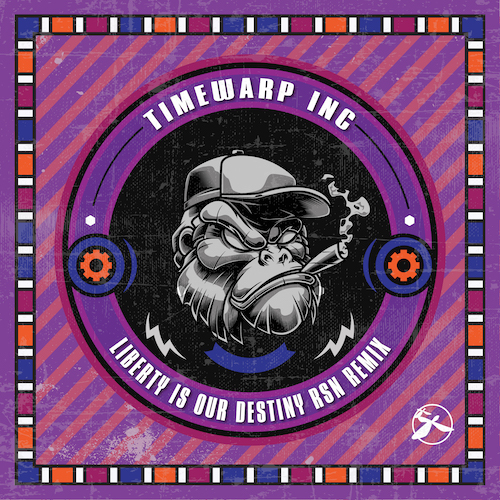 We are proud to present you the first remix single release from Timewarp inc's fourth studio LP album "Theory of Revolution". This will be a remix series that will constantly continue during this year, providing one new single track remixed, bringing you something new & fresh to discover!

This first remix single is brought by Athens based producer RSN. As you can discover on this particular remix, RSN managed to bring the original song's dub-reggae-funk style along with the Reggae-Raga & Dancehall vocals from Gobey into his music style & territory, blended with soul, trip hop, downtempo and his floating music character over the original song. An instrumental version of the remix is included on the release.

Audiophile Analog Mastering: Angelos Timewarp Stoumpos at Timewarp Mastering

Cover Design: Timewarp

The original song is included on Timewarp inc's new album "Theory of Revolution". A special limited edition (250 copies) double 12" gatefold vinyl format!

The 12" Double Vinyl is now on stock & available for purchase. BUY HERE!


Timewarp inc - Liberty is our Destiny (RSN Remix) will available on February 14, 2020 for sale as a digital download at timewarpstore and all digital music retailers worldwide.



TRACK LIST:
1. Timewarp inc - Liberty is our Destiny feat. Gobey (RSN Remix)
2. Timewarp inc - Liberty is our Destiny (RSN Remix Instrumental)