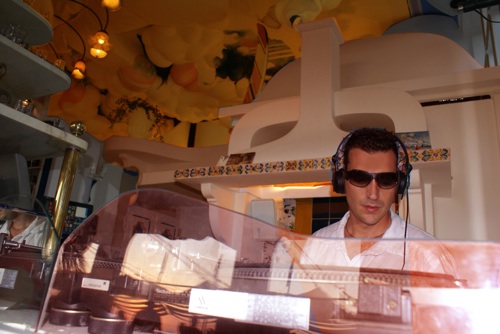 Atfunk is the project of the Sound designer Santi Tur ( Ibiza, 1978 ). Constantly improving his particular way of production, his music style is based on Funk, Electronic Deep sounds, Jazz and downtempo.

'Rewire Walks' is his debut LP, on Extremly House Music, an Ibiza-based label. His music appeared on compilations in Japan, Germany, Ibiza and has released also ep's with Kraak records. Atfunk continues with various remixes for artists like Chris Joss from ESL Music, Manuel Tur from Freerange and Trotter, Teddy Presberg, Timewarp inc and Quasamodo from Timewarp Music. He released also deep funk and house influenced music umder the name Deep Collective.

Before that, Santi has played under different names at several live and Dj sets within the local scene: The Diamond Club, Space Ibiza, Bambuddha Groove, Kumharas, Blue Marlin, Cafe del Mar…and has also produced some significant tracks for labels and places such as Café Del Mar, Pacha Recordings, Irma Records ( Italy ), Clubstar ( Germany ), 3Division Rec ( France ), KM 5, Ibiza Sonica Radio, Ibiza Global Radio, Juan Verdera, La Maison de L,elephant, Welt Rec, Electronic Pirates, Modern Electrics among others.