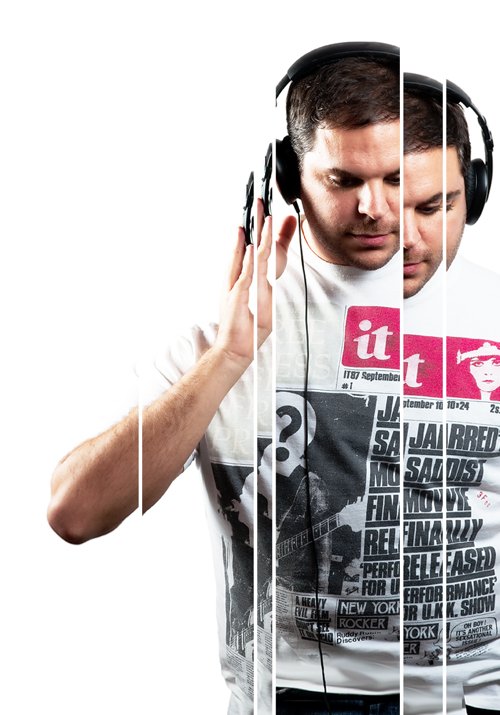 Giannis Michelinakis a.k.a LegoBoy began his musical journey as a member of Cosmic Sound. Cosmic Sound were created during the summer of 1999. The band was completed by Giannis Michelinakis (Lego boy) and Manos Stamatakis (Isaak). Up until then they were both leading their individual paths through parties and radio shows.

Their first live appearances were in 1994 & 1995, up to 1999 were their paths crossed over. The basic concept for creating this team was to present something more than a simple dj set. They began to organise parties with the support of various djs and producers, while they paid extra attention to the aisthetic of the venues they used. The first appearance as Cosmic Sound took place in 'Pagopoieion' bar which was followed by a series of gigs in may clubs and bars in Creta and Athens.

They have participated in many events with great artists as Timewarp inc, John Digweed, Dave Seaman, Savvas (Acropod), George Kyriakoy (Klik records), George Bitsikas, Miss Lefki and many more.

During 2000, they produced and mixed the sound for the theatrical show 'The Giant of the Mountain' of the theatrical team OMMA STUDIO. The same year Lego Boy began producing music with members of the hip hop band face2face. The result of this collaboration was his first single 'Into your eyes'. Two years after, after he created his home studio, he produced his second single 'Into your eyes part 2', that contained the famous 'deep connection' and 'my club'.

Later on, the same year he founded Downtempo productions & promotions, with the basic idea to create music through the collaboration of other producers that share the same vision. His music, from time to time, traveled through experimental and groove house with many electro influences. In 2006 he created Funk in da house with Dimitris Kefalopoulos a.k.a k_d which defined his turn to more soulful paths. In 2008 he stood out at the Coca Cola Soundwave Vol.2 with his track 'Dont Cry' (feat Gad). The same year he compiled the compilation 'Down & Dirty' which was released on Timewarp Music. In 2009 he presented his new project 'Niteshift' with Savvas Karabinos (a.k.a Acropod). The same year his track 'Life in Space' (life in earth remix) was included in the soundtrack of a very famous ABC series, and was also licensed for a compilation for Sony Music which featured artists like Moby, Groove Armada, Nightmares on Wax, Mo Horizons and more.

In 2010 he participated on the 2nd album of Gad 'The Perfect Crime'. In June 2010 he releases his ep 'Late at night' at Kraak Records, which was a small teaser for his upcoming personal album 'Black box from your plane' due to be released by Kraak records.